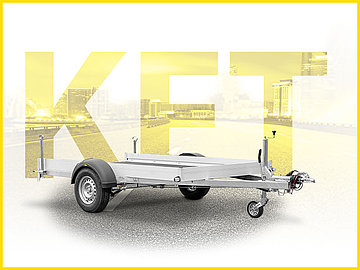 07/26/2019
KFT small vehicle and motorcycle transporter revised and enhanced
Aluminium rather than steel, a larger loading area and numerous improvements to the finer details — with all these enhancements, Humbaur's new KFT small vehicle and motorcycle transporter is truly exceptional. One stand-out feature is the optional 350-mm side that transforms the KFT into a multifunctional trailer. The new KFT is also available with two equipment packages that provide for either vehicle transportation or motorcycle transportation.
Produced by Humbaur, one of Europe's leading manufacturers of trailers and vehicle bodies, this small vehicle and motorcycle transporter has it all: Whether towed by a passenger car or mobile home, it has always been suitable for carrying small vehicles or up to three motorcycles, as well as self-propelled machines such as ride-on mowers. Following a thorough overhaul, the compact trailer now offers a whole host of new practical functions.
While the old KFT was made entirely from steel, the new version presents many aluminium features—which can be seen in aspects such as the sides. The latter are equipped with integrated tie-down hoops, each of which has a tensile force of 400 kg (tested by DEKRA). The loading area has been enlarged (16.5 cm longer and 11.5 cm wider) to now also cater for slightly larger vehicles. The total permissible weight of the trailer is 1.5 t, the load capacity almost 1.2 t. In addition, the new KFT features a plank shaft beneath the loading area in which the ramps for loading vehicles can be stored.
Humbaur offers two packages for the KFT: one for vehicle transportation and one for motorcycle transportation. The "vehicle transportation" equipment package includes the mounted plank shaft and two aluminium ramps, along with two prop stands that can be used to stabilise the trailer during loading and unloading. The "motorcycle transportation" equipment package includes the mounted plank shaft, two loose motorcycle stands, two loose connection brackets and a motorcycle loading ramp. A stand and connection bracket for a third motorcycle are available as an additional option.
When fitted with the optional 350-mm aluminium side, the Humbaur KFT becomes truly multifunctional, capable of tackling an even wider range of transportation challenges and competing with classic box trailers. Many users will consider this a crucial advantage, as it enables them to respond flexibly to all of the transportation challenges they encounter in everyday life, whether work- or leisure-related.
Humbaur makes it happen
HUMBAUR is one of the largest companies in the world of trailer and vehicle bodies. The owner-managed family company offers around 420 different trailer models as standard for both commercial and private customers, as well as 230 models in the FlexBox box body range. Its 600 employees produce around 60,000 trailers each year. The expert in trailers and transport solutions with total weights ranging from 750 kg to 55 t has a national and international presence, and also manufactures customised solutions. Over 500 dealers in Germany and 26 other European countries offer local contact partners. More at: www.humbaur.com