Trailer /
Livestock trailer HTV Alu straight front
Humbaur HTV AG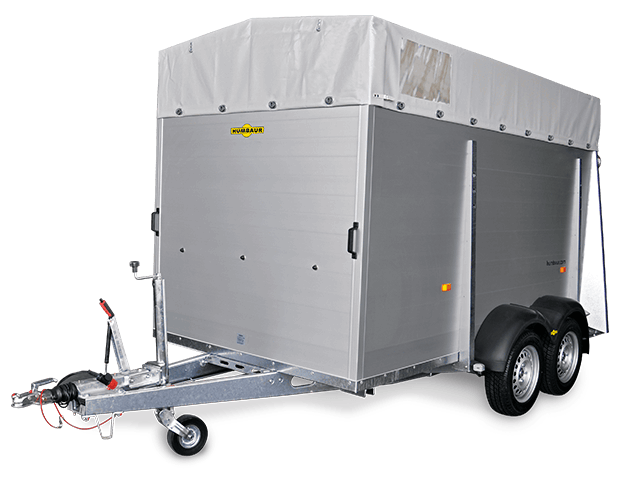 Sturdy designed
For safe and efficient animal transport
i
Screwed longitudinal-beam chassis, hot-dip galvanized
i
Construction using high-quality 25 mm thick anodised aluminium platform gates
i
13-pin plug and reversing light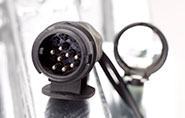 i
18 mm thick wooden base plate
i
High-mass surrounding frame section, hot-dip galvanised
i
Walk-up ramp with hydraulic spring supports and rubber granulate mat
i
Entry door on the right hand side of vehicle
i
Automatic jockey wheel, centrally mounted.
i
Tyre size suitable for 100km/h.
i
Cover and frame 350 mm, white colour, with window left and right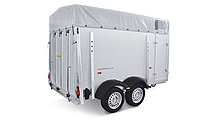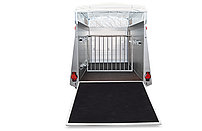 Our cattle trailers with a straight-fronted aluminium body has been designed for heavy-duty use over many years. Its end-to-end anti-corrosion protection makes it particularly durable. The chassis is hot-dip galvanised, with the lateral supports and the outer frame made from hot-dip galvanised steel plate. All edging is made from anodised aluminium. The walls have been constructed from anodised aluminium profiles. A tough tarpaulin protects your animals against adverse weather conditions. The entry door in the side wall allows your livestock to enter easily at any time. Have a look at the accessories list if you would like to adapt this trailer to your individual needs.
Screwed longitudinal-beam chassis, hot-dip galvanized
Construction using high-quality 25 mm thick anodised aluminium platform gates
13-pin plug and reversing light
18 mm thick wooden base plate
High-mass surrounding frame section, hot-dip galvanised
Walk-up ramp with hydraulic spring supports
3 binding rings
Entry door on the right hand side of vehicle
Handhold for moving
Automatic jockey wheel
Tyre size suitable for 100 km/h
Cover and frame 350 mm, white colour, with window left and right
Technical data
Tandem, alu, straight front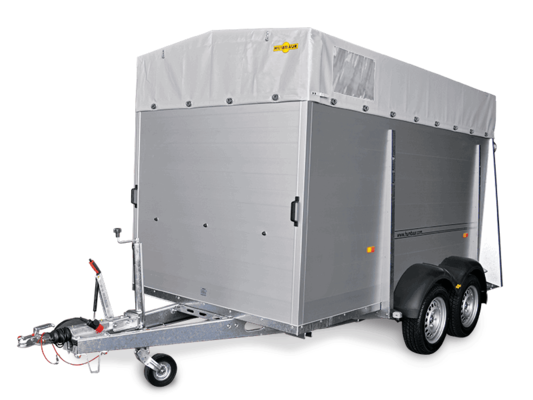 Inner height

1.850 mm
Total height

2.450 mm
Inner length

3.125 mm
Total length

4.590 mm
Inner width

1.700 mm
Total width

2.230 mm
Tandem, alu, straight front Standard equipment
Screwed longitudinal-beam chassis
Construction using high-quality 25 mm thick anodised aluminium platform gates
13-pin plug and reversing light
With alubicomp-floor serially
High-mass surrounding frame section, hot-dip galvanised
Elegant galvanised rear tail support with integrated lighting
Walk-up ramp with hydraulic spring supports and rubber granulate mat
2 binding rings
Entry door on the right hand side of vehicle
Handhold for moving
Jockey wheel
Tyres designed for 100 km/h
Tandem, alu, straight front

Models

Permissible gross weight in kg

2400

Body dimensions in mm (LxWxH)

4590 x 2230 x 2450

Internal dimensions in mm (LxWxH)

3125 x 1700 x 1850
Permissible gross weight in kg
2400
braked
Body dimensions in mm (LxWxH)
4590 x 2230 x 2450
Tyre size in inches
14
Internal dimensions in mm (LxWxH)
3125 x 1700 x 1850
Load capacity in kg
1662