Trailer /
Sales box trailer HVK tandem-axle
The HVK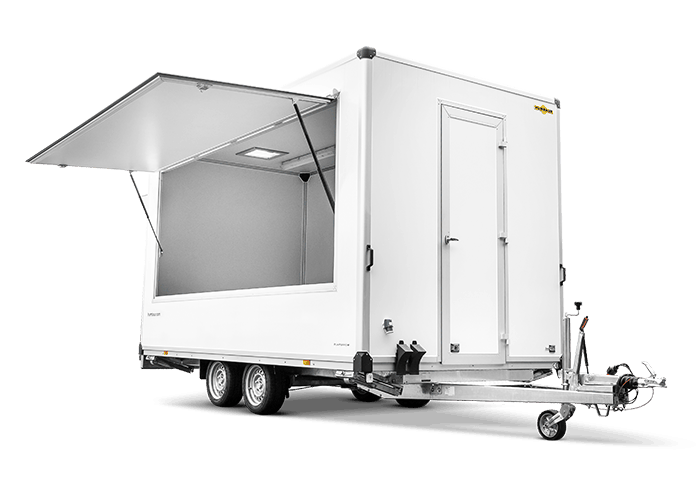 HVK sales trailer
Your handy helper when it comes to mobile sales success
i
V drawbar, hot-dip galvanised
i
13-pin plug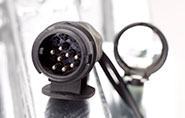 i
Insulated floor plate 18 mm thick with PVC floor covering.
i
Body made from 45 mm sandwich panels
i
Central access door in front wall can be locked, aluminium treat plate step on drawbar.
i
Sales hatch with gas spring support on right side in driving direction, locked from inside.
i
Counter approx. 565 mm at bottom, measured from floor plate.
i
Wheel housings integrated into body
i
Humbaur multifunctional lighting with reversing light.
i
The HVK sales trailer is available both as single axle and a tandem axle model.
Our catering trailers make selling so much easier for you in many respects. Access to your catering trailer is via a door at the front. High-quality lighting has been provided in galvanised fittings. The body has a polyurethane core and is coated with galvanised, powder-coated steel plate on both ides. The well-designed flap is on the right side and has a hinged cover with rain protection. This means that your customers are always under cover. Gas springs help you open the flap. Do you have very particular requirements for your catering trailer? Find out more about our comprehensive range of accessories.
V drawbar, hot-dip galvanised
13-pin plug
Insulated floor plate 18 mm thick with PVC floor covering
Body made from 45 mm sandwich panels
Central access door in front wall, can be locked
Sales hatch with gas spring support
4 scissor-type supports
Counter approx. 565 mm at bottom
Wheel housings integrated into body
2 manoeuvring handles
Jockey wheel
Humbaur multifunctional lighting with reversing light
Also available as a single axle model
Technical data
HVK Tandem - empty trailer PurFerro
Inner height

2.280 mm
Total height

2.860 mm
Inner length

3.690 mm
Total length

5.450 mm
Inner width

2.130 mm
Total width

2.200 mm
HVK Tandem - empty trailer PurFerro Standard equipment
Hot-dip galvanised v-shaped coupling
13-pin plug and reversing light
18 mm thick base plate covered with PVC flooring
Construction using 30 mm thick PurFerro sandwich panels
Lockable entry door mounted centrally in the front bulkhead, foothold made from corrugated sheet aluminium mounted on the coupling
Vending hatch with hydraulic spring supports, on the right hand side of vehicle, locking from within
4 hatch supports
Jockey wheel
Parapet height 565mm up from the floor
Integrated wheelhouses
2 manoeuvring handles
HVK Tandem - empty trailer PurFerro

Models

Permissible gross weight in kg

2000

2500

2000

2500

Load capacity in kg

965

1465

870

1370

Body dimensions in mm (LxWxH)

5450 x 2200 x 2860

5450 x 2200 x 2860

5950 x 2200 x 2860

5950 x 2200 x 2860

Internal dimensions in mm (LxWxH)

3690 x 2130 x 2280

3690 x 2130 x 2280

4190 x 2130 x 2280

4190 x 2130 x 2280

Load height in mm

550

550

550

550

Tyre size in inches

13

13

13

13
Permissible gross weight in kg
2000
braked
Body dimensions in mm (LxWxH)
5450 x 2200 x 2860
Tyre size in inches
13
Internal dimensions in mm (LxWxH)
3690 x 2130 x 2280
Load capacity in kg
965
Permissible gross weight in kg
2500
braked
Body dimensions in mm (LxWxH)
5450 x 2200 x 2860
Tyre size in inches
13
Internal dimensions in mm (LxWxH)
3690 x 2130 x 2280
Load capacity in kg
1465
Permissible gross weight in kg
2000
braked
Body dimensions in mm (LxWxH)
5950 x 2200 x 2860
Tyre size in inches
13
Internal dimensions in mm (LxWxH)
4190 x 2130 x 2280
Load capacity in kg
870
Permissible gross weight in kg
2500
braked
Body dimensions in mm (LxWxH)
5950 x 2200 x 2860
Tyre size in inches
13
Internal dimensions in mm (LxWxH)
4190 x 2130 x 2280
Load capacity in kg
1370