Trailer /
Single-axle plywood box trailer HKT for elevating
Box trailer single axle HKT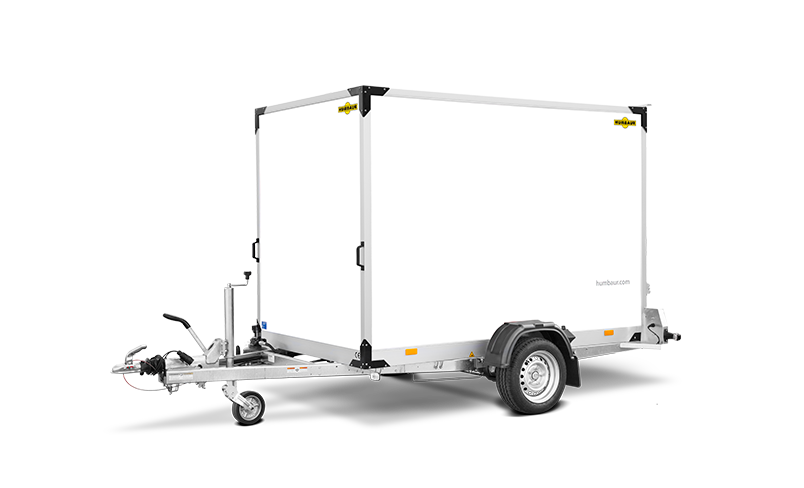 The HKT
The intelligent box trailer offers assistance at the loading
i
V drawbar, hot-dip galvanised
i
Bolted, hot-dip galvanised chassis
i
Loading platform to be lowered hydraulically with manual pump and mechanical safety locking of the Swivel axis while driving mode.
i
Wooden floor, 15 mm thick
i
Side panels and roof made by 14 mm multilayer wood, with GRP coating.
i
Tailgate, to be opened upwards.
i
4 pcs lashing rings in the frame profile, traction force 400 kg per lashing ring (DEKRA examined).
i
Humbaur multifunctional lighting with reversing light.
The clever box trailer with an intelligent lowering mechanism. The cargo bed moves towards you for loading and unloading. The flat drive-up angle is just 4 to 6 degrees. With the integrated access ramp and upwards opening tailgate, this trailer is the perfect partner for comfortable loading. A solid anti- slip floor and stable side walls with a GRP coating ensure durability. With the optional rocker, it is ideal for transporting motorcycles.
V drawbar, hot-dip galvanised
Bolted, hot-dip galvanised chassis
Loading platform to be lowered hydraulically
Wooden floor, 15 mm thick
Side panels and roof made multilayer wood
Interiour light mounted
Tailgate, to be opened upwards
Ramp at the inside
4 pcs lashing rings in the frame profile
Jockey wheel
Humbaur multifunctional lighting with reversing light
Technical data
Single axle Plywood, wheels out, lowerable trailer
Inner height

1.800 mm
Total height

2.240 mm
Inner length

2.500 mm
Total length

4.050 mm
Inner width

1.565 mm
Total width

2.250 mm
Single axle Plywood, wheels out, lowerable trailer Standard equipment
Screwed galvanized chassis
Hydraulic lowerable loading surface
Mechanical security interlocking device of the rotation axel when driving
Humbaur multifunctional lighting
Wooden floor 15 mm strong
4 pairs of integrated tie-rings (400 kg per tie ring, DEKRA approved)
Side walls and roof made from multilayered wood 15 mm with UV-resistant plastic coating
Interior lighting
Overhead-opening backflap
Inlying tailgate
Galvanized espagnolette lock and hinges
Single axle Plywood, wheels out, lowerable trailer

Models

Permissible gross weight in kg

750

1350

1500

1800

1350

1500

1800

Load capacity in kg

211

805

948

1240

709

859

1139

Body dimensions in mm (LxWxH)

4050 x 2250 x 2240

4085 x 2250 x 2240

4085 x 2250 x 2240

4085 x 2250 x 2240

4610 x 2450 x 2240

4610 x 2450 x 2240

4610 x 2450 x 2240

Internal dimensions in mm (LxWxH)

2500 x 1565 x 1800

2500 x 1565 x 1800

2500 x 1565 x 1800

2500 x 1565 x 1800

3100 x 1765 x 1800

3100 x 1765 x 1800

3100 x 1765 x 1800

Load height in mm

420

420

420

420

420

420

420

Tyre size in inches

13

13

13

13

13

13

13
Permissible gross weight in kg
750
braked
Body dimensions in mm (LxWxH)
4050 x 2250 x 2240
Tyre size in inches
13
Internal dimensions in mm (LxWxH)
2500 x 1565 x 1800
Load capacity in kg
211
Permissible gross weight in kg
1350
braked
Body dimensions in mm (LxWxH)
4085 x 2250 x 2240
Tyre size in inches
13
Internal dimensions in mm (LxWxH)
2500 x 1565 x 1800
Load capacity in kg
805
Permissible gross weight in kg
1500
braked
Body dimensions in mm (LxWxH)
4085 x 2250 x 2240
Tyre size in inches
13
Internal dimensions in mm (LxWxH)
2500 x 1565 x 1800
Load capacity in kg
948
Permissible gross weight in kg
1800
braked
Body dimensions in mm (LxWxH)
4085 x 2250 x 2240
Tyre size in inches
13
Internal dimensions in mm (LxWxH)
2500 x 1565 x 1800
Load capacity in kg
1240
Permissible gross weight in kg
1350
braked
Body dimensions in mm (LxWxH)
4610 x 2450 x 2240
Tyre size in inches
13
Internal dimensions in mm (LxWxH)
3100 x 1765 x 1800
Load capacity in kg
709
Permissible gross weight in kg
1500
braked
Body dimensions in mm (LxWxH)
4610 x 2450 x 2240
Tyre size in inches
13
Internal dimensions in mm (LxWxH)
3100 x 1765 x 1800
Load capacity in kg
859
Permissible gross weight in kg
1800
braked
Body dimensions in mm (LxWxH)
4610 x 2450 x 2240
Tyre size in inches
13
Internal dimensions in mm (LxWxH)
3100 x 1765 x 1800
Load capacity in kg
1139