Aerodynamic Design
Improved aerodynamics and more space
The models Balios®, Xanthos® and Zephir® are also available as AERO models. The poly bow blends harmoniously into the design of the pendant and completes the new design language. It provides improved aerodynamics and thus reduces fuel consumption.
The AERO models also extend the usability of your Humbaur horse trailer. In the standard saddle compartment you have about 20 % more space for your valuable saddles and other personal accessories.
The interior plastic tub defines the additional space in the bow and seals the interior against moisture and draughts from the outside.
As standard equipment or optionally available in:
AluBiComp
The floor that can deal with everything
The Humbaur AluBiComp floor is not only resistant to moisture; its low intrinsic weight (30 % less than wood) also increases the effective load capacity of your horse trailer. Thanks to its refined composite panel design (two surface layers made from specially coated aluminium sheets with a polypropylene plastic core) it is rot proof and sturdy. The AluBiComp can therefore easily withstand high point loads from heavy horses (21 mm thick).
Standard equipment for all aluminium trailers, Zephir®, all Maximus® models and Xanthos® carriages. All other Humbaur horse trailers can be optionally equipped with the AluBiComp floor.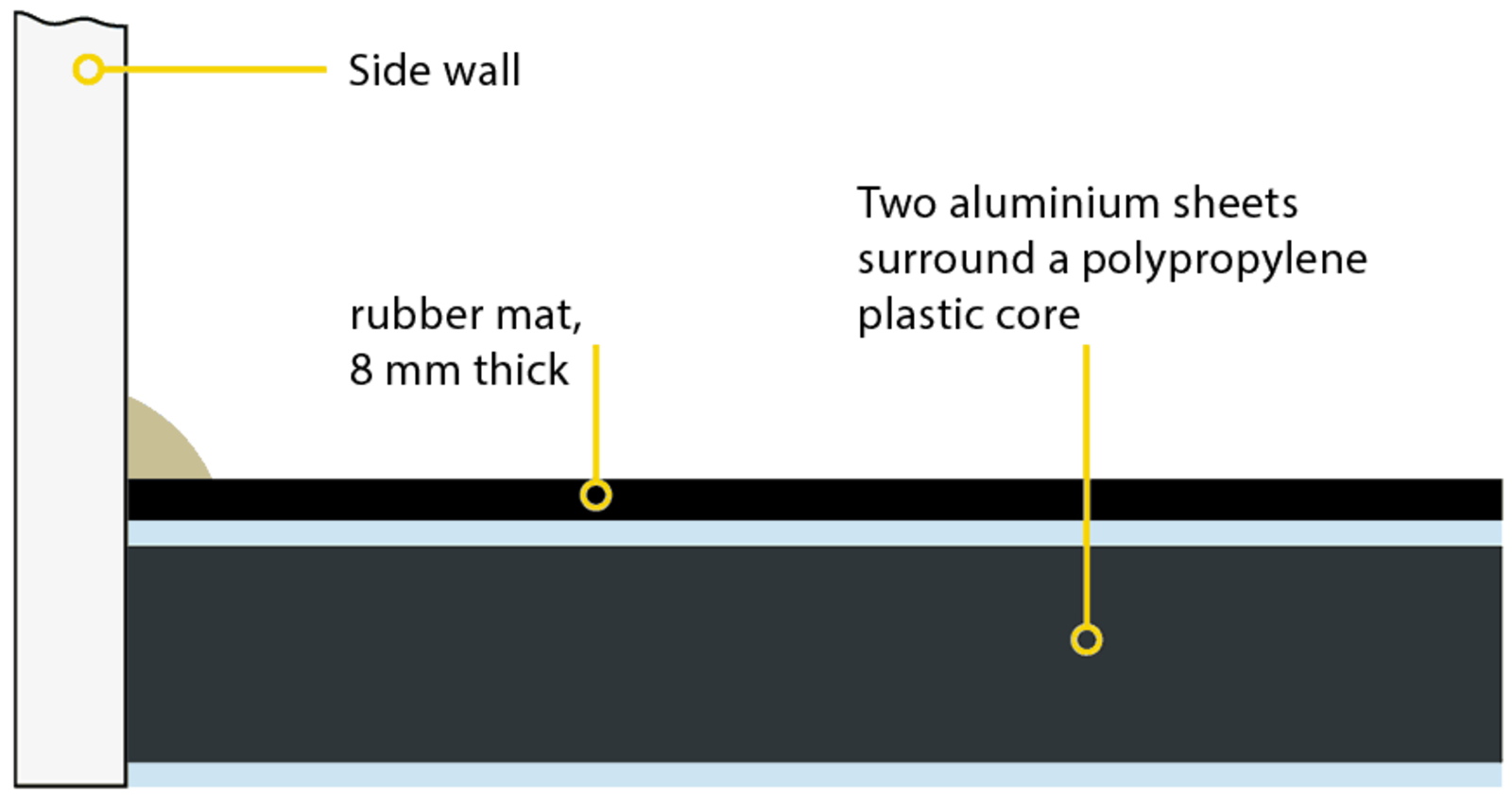 As standard equipment or optionally available in:
EquiDrive®
for safe contact with the road.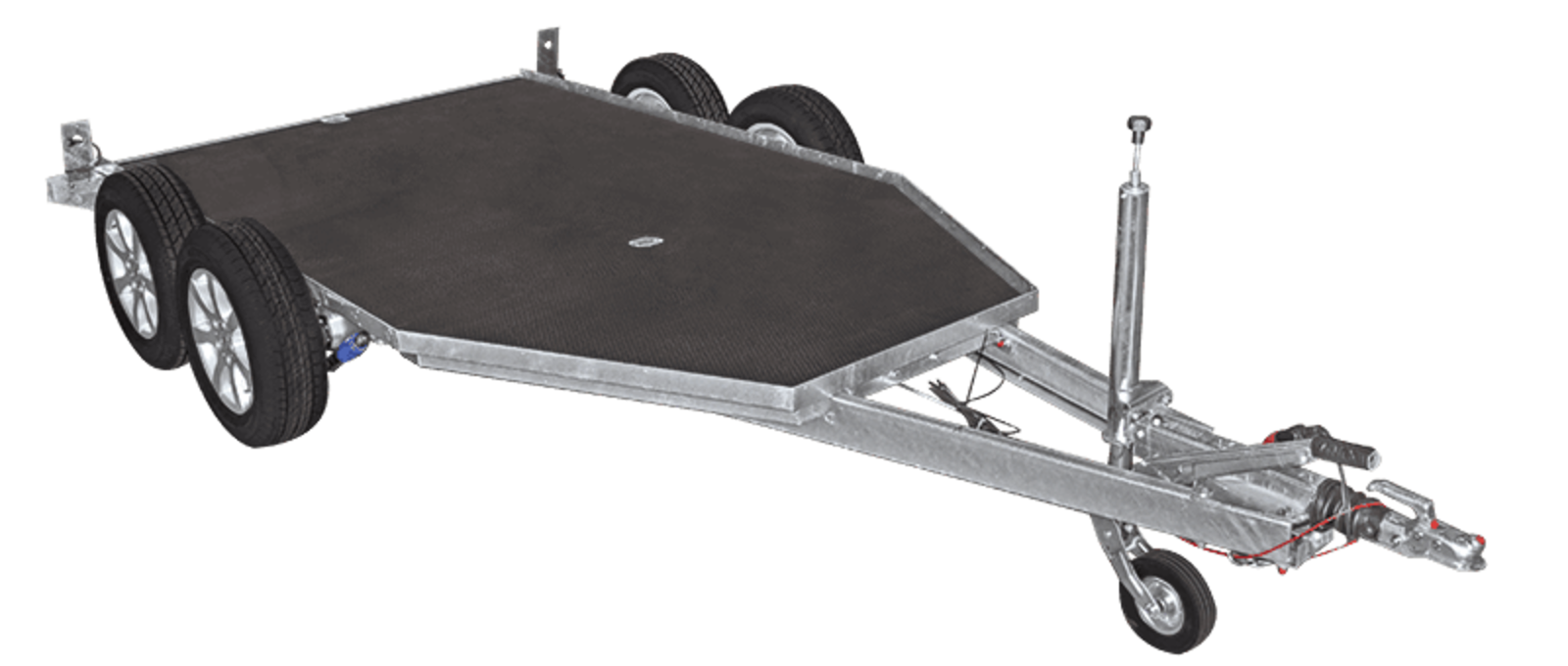 The Humbaur EquiDrive® frame, with its hot-dip galvanised longitudinal beam chassis, offers high stability and thus the best possible safety. With its significantly lower centre of gravity, it ensueres gentle road handling for both driver and horse - even on difficult terrain.
The advantages
The low load height ensures a flat angle for the loading ramp.
The trailer is easy to enter.
All Frame parts and axles can also be individually replaced if necessary.
As standard equipment or optionally available in:
The EquiDrive® PLUS chassis
For more driving comfort
The Humbaur EquiDrive® PLUS chassis offers a lot of benefits and more safety for your horses during transport in your trailer thanks to its complete equipment.
Automatic readjustment of the brakes ensures a consistently optimal braking response
Largely maintenance-free braking system
Meets tomorrow's legal requirements today
Possible gross weight of up to 2.7 t
Stable cast ball coupling
Easy-to-operate hand brake lever
As standard equipment or optionally available in:
EquiDrive® PLUS S
Coil spring chassis - for maximum safety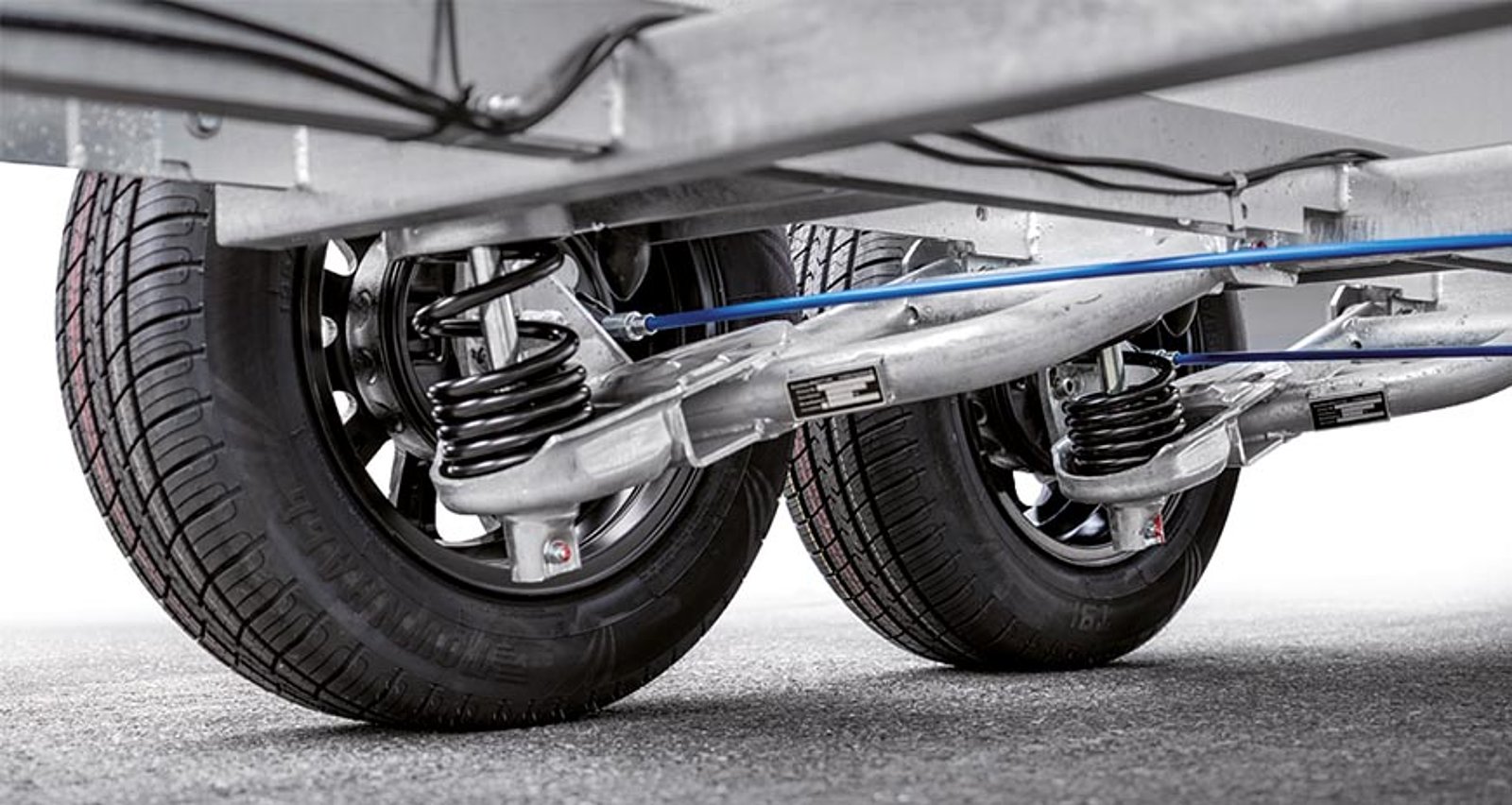 Chassis springs are one of the most important components of a modern vehicle. They influence its handling, road holding and brake behaviour. The EquiDrive® PLUS S coil spring chassis offers
perfect driving comfort and ensures a secure road grip regardless of the road conditions.
Highest suspension comfort through passenger car technology
Maximum safety for your horses during transport
Stable cast ball coupling
Easy-to-operate hand brake lever
As standard equipment or optionally available in:
EquiGuard®
Panic release – a revolution in horse transport
Safety comes first at Humbaur: for people and animals. With our further developed EquiGuard® we not only enable you to transport your horses safely, we also offer you comfort in everyday life. The panic release can be opened in seconds, without any tools.
Minimised risk of injury
When opening the trailer, only the breast bar or breech bar is released from its fastening. All other parts remain fixed to the side wall. This significantly reduces the risk of injury to your horse.
Intuitive operation with no need for tools
The EquiGuard® can be opened quickly and easily with a single hand movement, even from the inside. No tools are needed. So you can react in an emergency situation without delay. The breast bar and breach bar can be easily clicked into place in seconds. Without first having to screw parts of the mechanism back on.
Maintenance-free and easy to clean
The Humbaur EquiGuard® is designed for everyday use and to last a lifetime, meaning it requires no maintenance at all. But what if dirt or sand get into the system or the horse trailer needs cleaning? No problem: The entire mechanism can be easily cleaned using the high-pressure steam cleaner.
As standard equipment or optionally available in:
EquiLock - lockable Partition
Grip and safety, even when the tailgate is open
Our lockable partition EquiLock® offers absolute safety for your four-legged friends, even when the tailgate is open. The partition cannot be unintentionally moved since the mechanical locking system effectively prevents the breeching bars from being pressed upwards. This means that the partition cannot be levered out, even if the tailgate is open, which significantly reduces the risk of injury for the horses in the trailer.
With the lever, which is folded in when fastened, the EquiLock® partition can be locked and unlocked effortlessly and can of course always be adjusted for more space in order to be able to enter more easily. You will receive this innovation as standard with all of our models that include a partition, except for the SPIRIT models and versions with a central post partition.
Experience the lockable partition EquiLock® in action in our short video
As standard equipment or optionally available in:
EquiSpace®
Our design for a pleasant and safe journey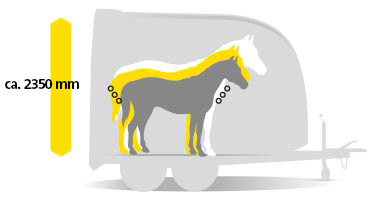 The refined Humbaur EquiSpace® interior design concept ensures the most space possible for horses during transport in the trailer and for many models it is integrated in the standard versions.
The split, padded and moulded breast and breech bars can be individually suspended at three different levels and depths. This allows the stall size in the trailer to be adjusted from pony to large horse. The solid interlock from our older models was kept for safety reasons and due to its popularity.
Models: Balios®, Xanthos®, Zephir®, the AERO-models, Notos® and all Maximus® models (except for SPIRIT models)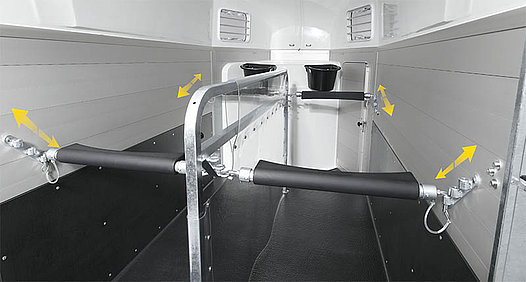 As standard equipment or optionally available in:
As standard equipment or optionally available in:
Resin Transfer Moulding
Smooth surfaces make cleaning easy!
Humbaur has a GRP manufacturing site at its disposal which ensures continuously high product quality.
This way we produce light weight components (e.g. roof hoods, saddle compartments or side walls),
which are very smooth on both sides. They are dirt-repellent and therefore easy to clean. Furthermore they reduce the risk of injury for the horses.
Models: Balios®, Xanthos®, ­Zephir® and all ­AERO models.
As standard equipment or optionally available in:
Saddle compartments
Lots of space for saddles & equipment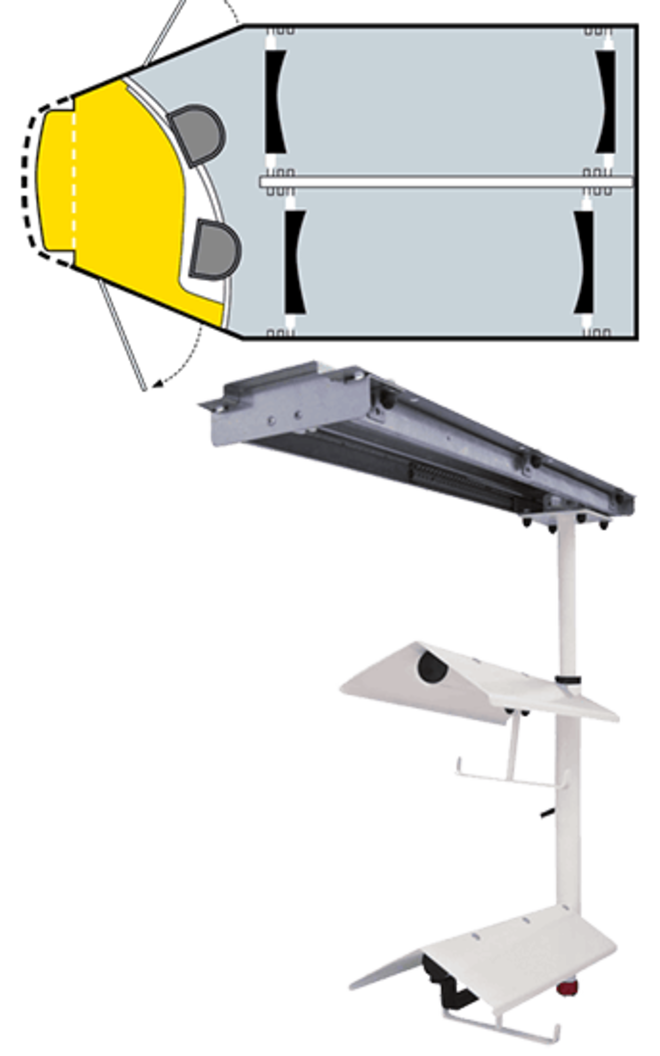 Equip your Humbaur horse trailer with a spacious saddle compartment, which is perfectly suitable for English as well as Western saddles. Many models are already equipped with a saddle compartment in the standard version. The specially developed aluminium door frame profile with 3-point locking ensures optimal locking comfort and high impermeability of the saddle compartment.
Standard equipment of the saddle compartment
2 saddle holders (Single® only 1 saddle holder)
2 removable feeding troughs, which are easy to reach for each horse (Single® only one feeding trough), including mount at the front wall (except Maximus® models)
Battery powered interior light with motion sensor, which works even without the towing vehicle. Additionally it can be used as a mobile flashlight
Shovel and brush
Storage compartment and bar (with all AERO models)
Mirror and storage net
2 snaffle holders
3 universal hooks (for example for spurs)
Drainage opening for easy cleaning
Weitere Optionen
Western style saddle compartment with extendible saddle holder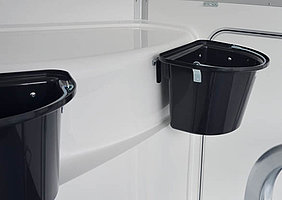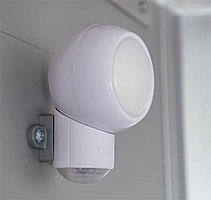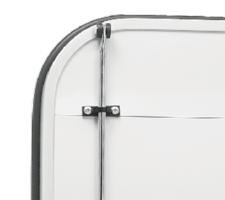 Als Serienausstattung oder optional erhältlich in:
Side kick plate
Durable protection for a long trailer life
In order to ensure that you can enjoy your horse trailer for a long time, many of our models are equipped with side kick plates as standard. It will withstand the footsteps of your horse for a long time and is easy to clean. We achieve this through a construction made of glass fibre mats manufactured according to our own patents, which are impregnated with polypropylene in a second step. The side kick plate is therefore not only hard, but also resistant to moisture and chemicals. Equipped with it, dents and other damages in the side wall of the horse trailer can be safely avoided. If the tread protection is worn out, it can be easily replaced. The wall of the saddle compartment can also be protected from damage caused by horse rides: Some of our horse trailer models can optionally be equipped with a safety bar at the saddle compartment.
As standard equipment or optionally available in: