Elevating trailer Senko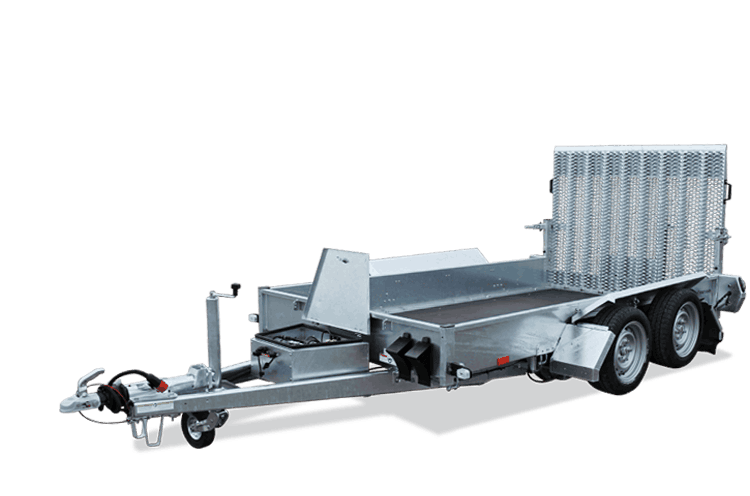 The lowerable all-rounder
Sturdy and durable
i
Welded drop-side-/ frame construction made by steel sheet, hot-dip galvanised.
i
Screwed V-drawbar, hot-dip galvanised
i
13-pole plug and reversing light.
i
Hot-dip galvanised ramp gate with anti-slip grid covering as well as gas spring support (approx. 1240 mm height, tested for an axle load of 2500 kg).
i
Full automatic jockey wheel
i
Steel mudguards, opening and closing automatically during lowering process.
i
Lighting, mounted lateral
i
Tilting hydraulic with manual pump.
i
Lashing points mounted in external frame, 10 pcs (5 pairs) at 3000 mm and 12 pcs (6 pairs) at 3750/3990 mm internal length, traction force 1000 kg per lashing ring.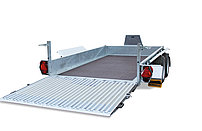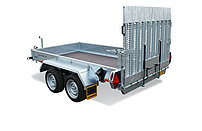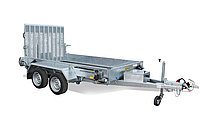 This trailer can even be used to load vehicles with very little road clearance. Simply use the hydraulics to lower the loading platform either using a manual pump or - as an optional extra to make your work even easier - with the help of an electric motor. The lowerable rubber spring axles will provide you with an extremely shallow loading angle. The Senko is also enormously robust. The drop sides made from 3-mm steel plate are strong enough to handle even the heaviest loads. Each of the ten lashing rings has been DEKRA-approved for a tensile load of 800 kg. Naturally, all vehicle components have been hot-dip galvanised.
Welded drop-side-/ frame construction
Screwed V-drawbar, hot-dip galvanised
13-pole plug and reversing light
Hot-dip galvanised ramp gate
Full automatic jockey wheel
Movable Steel mudguards
Lighting, mounted lateral
Tilting hydraulic with manual pump
Lashing points mounted in external frame
Technical data
Senko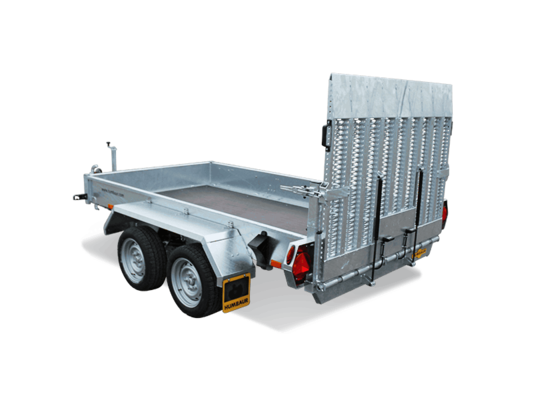 Inner height

270 mm
Total height

1.740 mm
Inner length

3.000 mm
Total length

4.680 mm
Inner width

1.600 mm
Total width

2.230 mm
Senko Standard equipment
Welded drop-side-/frame construction made by steel plate, hot-dip galvanized
Welded V-drawbar, hot-dip galvanized
13-pin plug and reversing light
Hot-dip galvanised ramp wall with anti-slip grating, which is also gas spring supported (height approx. 1240 mm, tested on 2400 kg axle)
Lashingrings mounted in external frame (5 pairs at 3000 mm / 6 pairs at 3750 mm internal length.), traction force 1000 kg per lashing ring
Fully automatic support wheel
Steel mudguard, opens and closes automatically during the lowering process
Lighting mounted on the side
Lowering hydraulics with hand pump
Senko

Models

Permissible gross weight in kg

3000

3500

3000

3500

Load capacity in kg

2260

2740

2140

2620

Body dimensions in mm (LxWxH)

4750 x 2230 x 1740

4680 x 2230 x 1740

5500 x 2480 x 1740

5470 x 2480 x 1740

Internal dimensions in mm (LxWxH)

3000 x 1600 x 270

3000 x 1600 x 270

3750 x 1850 x 270

3750 x 1850 x 270

Load height in mm

470

470

470

470

Tyre size in inches

13

13

13

13
Permissible gross weight in kg
3000
braked
Body dimensions in mm (LxWxH)
4750 x 2230 x 1740
Tyre size in inches
13
Internal dimensions in mm (LxWxH)
3000 x 1600 x 270
Load capacity in kg
2260
Permissible gross weight in kg
3500
braked
Body dimensions in mm (LxWxH)
4680 x 2230 x 1740
Tyre size in inches
13
Internal dimensions in mm (LxWxH)
3000 x 1600 x 270
Load capacity in kg
2740
Permissible gross weight in kg
3000
braked
Body dimensions in mm (LxWxH)
5500 x 2480 x 1740
Tyre size in inches
13
Internal dimensions in mm (LxWxH)
3750 x 1850 x 270
Load capacity in kg
2140
Permissible gross weight in kg
3500
braked
Body dimensions in mm (LxWxH)
5470 x 2480 x 1740
Tyre size in inches
13
Internal dimensions in mm (LxWxH)
3750 x 1850 x 270
Load capacity in kg
2620