Trailer /
Flatbed trailer Startrailer
Single axle trailer Startrailer
The Startrailer
It helps you – whatever you are planning to do
i
V drawbar hot-dip galvanised
i
13-pin plug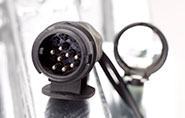 i
Drop sides made of anodised, double-walled aluminium profiles.
i
Tailgate with recessed locks
i
Tie-down rings integrated into the drop sides, tractive force 400 kg per lashing ring, Dekra-tested.
i
Pre-mounted attachment buttons for attaching the tarpaulin to the drop sides.
i
Humbaur multifunction lighting is integrated into the underride protection.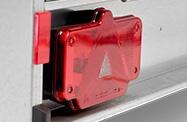 i
Corner stanchions with insert option
i
Tailgate with tension locks (Models Startrailer H 752513 and H 132513)
i
The Soft-Dock has a soft, cushioning surface that provides optimal damage protection for the rear of the vehicle.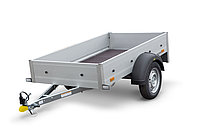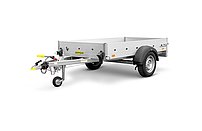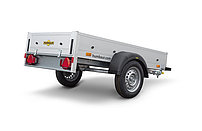 Do you need to transport garden waste, small bulk waste or larger purchases? Then you will love the Star flatbed trailer. It is particularly lightweight, can be deployed in many applications, and looks great: For example, take a look at the elegant discreetly recessed locks for the rear flap.
V drawbar hot-dip galvanised
13-pin plug
Floor plate 12 mm thick
Drop sides made of aluminium profiles
Tailgate with recessed locks
Tie-down rings integrated into the drop sides
Pre-mounted attachment buttons
Multifunction lighting
Corner stanchions with insert option
Tailgate with tension locks
Fixed front wall
All unbraked trailers with a ball head coupling with Soft-Dock as standard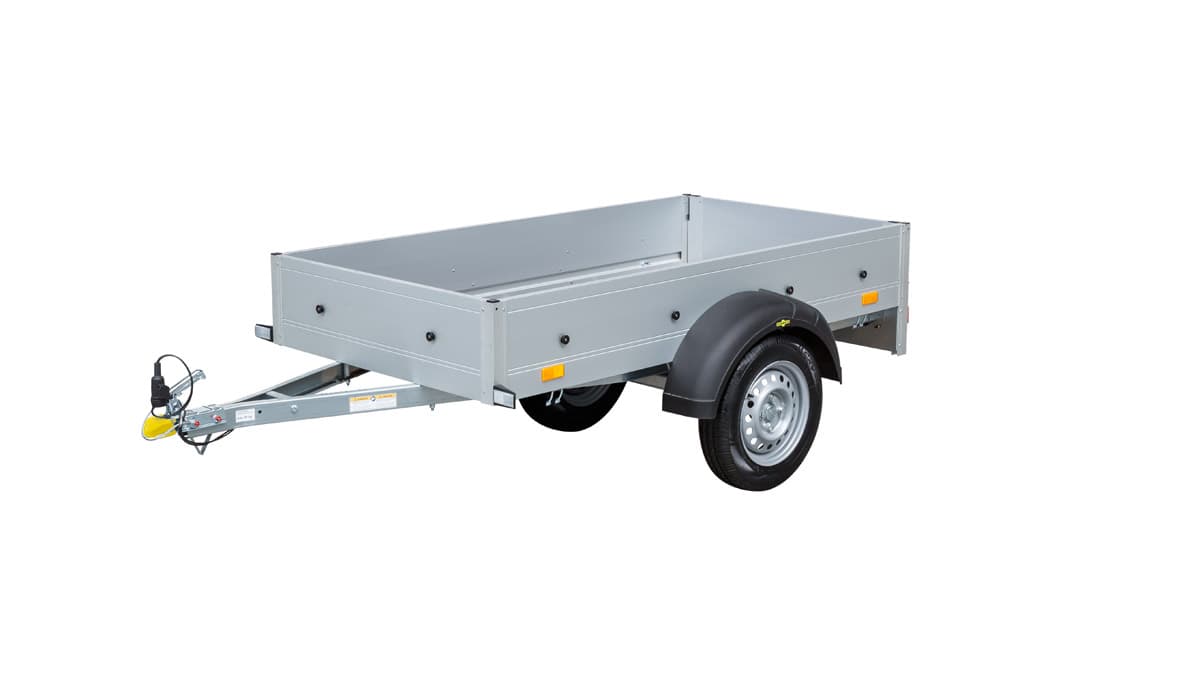 360° view
Technical data
Startrailer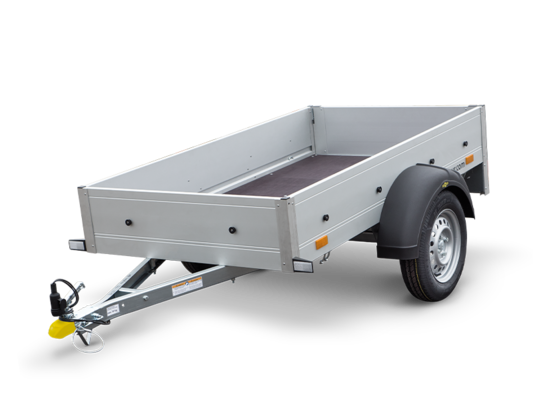 Inner height

300 mm
Total height

800 mm
Inner length

1.450 mm
Total length

2.380 mm
Inner width

1.095 mm
Total width

1.537 mm
Startrailer Standard equipment
13-pin plug
12 mm thick base plate
Sides in anodised, double-walled aluminium profile
Tailgate with stabil locks
lashing rings on the platform gate interior
Pre-installed fastening buttons for tarpaulin cover
Startrailer

Models

Permissible gross weight in kg

750

750

750

1300

Load capacity in kg

614

639

602

1078

Body dimensions in mm (LxWxH)

2970 x 1537 x 800

2380 x 1545 x 800

3585 x 1760 x 800

3765 x 1800 x 830

Internal dimensions in mm (LxWxH)

2050 x 1095 x 300

1450 x 1095 x 300

2510 x 1310 x 300

2510 x 1310 x 300

Load height in mm

500

500

500

530

Tyre size in inches

13

13

13

14
Permissible gross weight in kg
750
braked
Body dimensions in mm (LxWxH)
2970 x 1537 x 800
Tyre size in inches
13
Internal dimensions in mm (LxWxH)
2050 x 1095 x 300
Load capacity in kg
614
Permissible gross weight in kg
750
braked
Body dimensions in mm (LxWxH)
2380 x 1545 x 800
Tyre size in inches
13
Internal dimensions in mm (LxWxH)
1450 x 1095 x 300
Load capacity in kg
639
Permissible gross weight in kg
750
braked
Body dimensions in mm (LxWxH)
3585 x 1760 x 800
Tyre size in inches
13
Internal dimensions in mm (LxWxH)
2510 x 1310 x 300
Load capacity in kg
602
Permissible gross weight in kg
1300
braked
Body dimensions in mm (LxWxH)
3765 x 1800 x 830
Tyre size in inches
14
Internal dimensions in mm (LxWxH)
2510 x 1310 x 300
Load capacity in kg
1078
Product sheet for download