Wheels in HN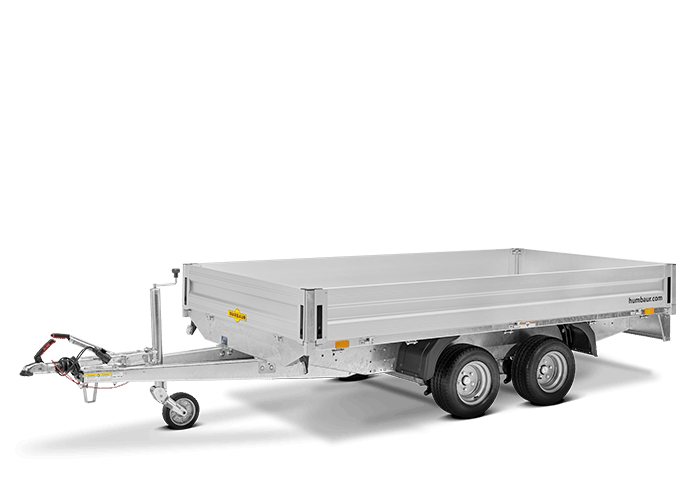 Powerful helper
for demanding applications
i
V drawbar, hot-dip galvanised
i
13-pin plug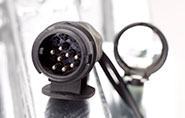 i
Drop sides made of anodised, double-walled aluminium with recessed locks, completely removable.
i
Lashing rings integrated into outer V frame profile, tensile force of 400 kg per lashing ring (tested by Dekra).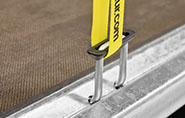 i
Humbaur multifunctional lighting integrated into underride protection.
i
Corner stanchions with insert option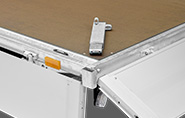 i
The HN (low platform trailer) is equipped with smaller tyres compared to the HT model and therefore has a lower load height.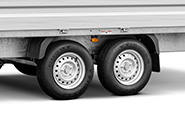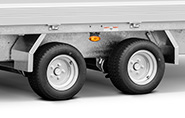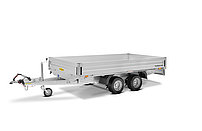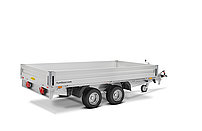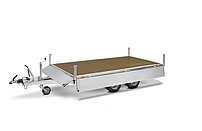 Everything that a professional needs: A stable high-loader with hot-dip galvanized frame and chassis. All important components like the longitudinal bar or the underrun guard are also protected from corrosion and are easily replaced, if there's a damage. At least six pieces of of tie-rings secure the load. Each of them contains a traction force up to 400 kg, approved by Dekra. The HT or the HN series offer a loading height from 700mm up to 725mm, or 610mm. Its double-walled aluminium drop sides look good and are robust.
V drawbar, hot-dip galvanised
13-pin plug
Floor plate 18 mm thick
Drop sides made of anodised, double-walled aluminium
Lashing rings integrated into outer V frame profile
Humbaur multifunctional lighting
Corner stanchions with insert option
Jockey wheel
Difference between HN and HT
Technical data
Tandem axle wheels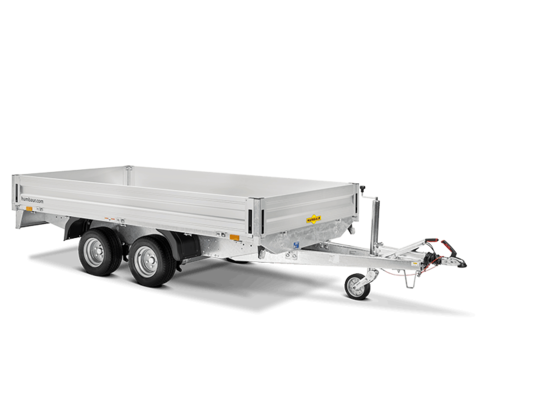 Inner height

300 mm
Total height

930 mm
Inner length

2.650 mm
Total length

4.054 mm
Inner width

1.650 mm
Total width

1.713 mm
Tandem axle wheels Standard equipment
Hot-dip galvanised v-shaped coupling
13-pin plug and reversing light
18 mm plywood base plate
Completely removable dropsides and boards made of double-walled anodised aluminium
Lashing rings integrated in v-shaped outer frame section, traction force of 400 kg per ring, DEKRA approved
Jockey wheel
Tandem axle wheels

Models

Permissible gross weight in kg

2000

2000

2500

3000

2500

3000

2500

3000

2500

3000

3000

3500

3000

3500

3000

3500

3000

3500

Load capacity in kg

1570

1540

2005

2495

1983

2460

1925

2420

1905

2380

2231

2633

2150

2540

2120

2538

2020

2430

Body dimensions in mm (LxWxH)

4054 x 1713 x 930

4510 x 1713 x 935

4501 x 1913 x 1000

4501 x 1913 x 1000

4475 x 2163 x 1000

4475 x 2163 x 1000

5490 x 1913 x 1000

5490 x 1913 x 1000

5475 x 2163 x 1000

5475 x 2163 x 1000

6635 x 2136 x 1120

6635 x 2136 x 1120

6900 x 2536 x 1120

6900 x 2536 x 1120

7620 x 2136 x 1120

7660 x 2136 x 1120

7905 x 2536 x 1120

7870 x 2536 x 1120

Internal dimensions in mm (LxWxH)

2650 x 1650 x 300

3100 x 1650 x 300

3100 x 1850 x 350

3100 x 1850 x 350

3100 x 2100 x 350

3100 x 2100 x 350

4100 x 1850 x 350

4100 x 1850 x 350

4100 x 2100 x 350

4100 x 2100 x 350

5220 x 2070 x 350

5220 x 2070 x 350

5220 x 2470 x 350

5220 x 2470 x 350

6220 x 2070 x 350

6220 x 2070 x 350

6220 x 2470 x 350

6220 x 2470 x 350

Load height in mm

600

610

610

610

610

610

610

620

610

610

620

650

620

650

620

650

620

650

Tyre size in inches

10

10

10

10

10

10

10

10

10

10

10

13

10

13

10

13

10

13
Permissible gross weight in kg
2000
braked
Body dimensions in mm (LxWxH)
4054 x 1713 x 930
Tyre size in inches
10
Internal dimensions in mm (LxWxH)
2650 x 1650 x 300
Load capacity in kg
1570
Permissible gross weight in kg
2000
braked
Body dimensions in mm (LxWxH)
4510 x 1713 x 935
Tyre size in inches
10
Internal dimensions in mm (LxWxH)
3100 x 1650 x 300
Load capacity in kg
1540
Permissible gross weight in kg
2500
braked
Body dimensions in mm (LxWxH)
4501 x 1913 x 1000
Tyre size in inches
10
Internal dimensions in mm (LxWxH)
3100 x 1850 x 350
Load capacity in kg
2005
Permissible gross weight in kg
3000
braked
Body dimensions in mm (LxWxH)
4501 x 1913 x 1000
Tyre size in inches
10
Internal dimensions in mm (LxWxH)
3100 x 1850 x 350
Load capacity in kg
2495
Permissible gross weight in kg
2500
braked
Body dimensions in mm (LxWxH)
4475 x 2163 x 1000
Tyre size in inches
10
Internal dimensions in mm (LxWxH)
3100 x 2100 x 350
Load capacity in kg
1983
Permissible gross weight in kg
3000
braked
Body dimensions in mm (LxWxH)
4475 x 2163 x 1000
Tyre size in inches
10
Internal dimensions in mm (LxWxH)
3100 x 2100 x 350
Load capacity in kg
2460
Permissible gross weight in kg
2500
braked
Body dimensions in mm (LxWxH)
5490 x 1913 x 1000
Tyre size in inches
10
Internal dimensions in mm (LxWxH)
4100 x 1850 x 350
Load capacity in kg
1925
Permissible gross weight in kg
3000
braked
Body dimensions in mm (LxWxH)
5490 x 1913 x 1000
Tyre size in inches
10
Internal dimensions in mm (LxWxH)
4100 x 1850 x 350
Load capacity in kg
2420
Permissible gross weight in kg
2500
braked
Body dimensions in mm (LxWxH)
5475 x 2163 x 1000
Tyre size in inches
10
Internal dimensions in mm (LxWxH)
4100 x 2100 x 350
Load capacity in kg
1905
Permissible gross weight in kg
3000
braked
Body dimensions in mm (LxWxH)
5475 x 2163 x 1000
Tyre size in inches
10
Internal dimensions in mm (LxWxH)
4100 x 2100 x 350
Load capacity in kg
2380
Permissible gross weight in kg
3000
braked
Body dimensions in mm (LxWxH)
6635 x 2136 x 1120
Tyre size in inches
10
Internal dimensions in mm (LxWxH)
5220 x 2070 x 350
Load capacity in kg
2231
Permissible gross weight in kg
3500
braked
Body dimensions in mm (LxWxH)
6635 x 2136 x 1120
Tyre size in inches
13
Internal dimensions in mm (LxWxH)
5220 x 2070 x 350
Load capacity in kg
2633
Permissible gross weight in kg
3000
braked
Body dimensions in mm (LxWxH)
6900 x 2536 x 1120
Tyre size in inches
10
Internal dimensions in mm (LxWxH)
5220 x 2470 x 350
Load capacity in kg
2150
Permissible gross weight in kg
3500
braked
Body dimensions in mm (LxWxH)
6900 x 2536 x 1120
Tyre size in inches
13
Internal dimensions in mm (LxWxH)
5220 x 2470 x 350
Load capacity in kg
2540
Permissible gross weight in kg
3000
braked
Body dimensions in mm (LxWxH)
7620 x 2136 x 1120
Tyre size in inches
10
Internal dimensions in mm (LxWxH)
6220 x 2070 x 350
Load capacity in kg
2120
Permissible gross weight in kg
3500
braked
Body dimensions in mm (LxWxH)
7660 x 2136 x 1120
Tyre size in inches
13
Internal dimensions in mm (LxWxH)
6220 x 2070 x 350
Load capacity in kg
2538
Permissible gross weight in kg
3000
braked
Body dimensions in mm (LxWxH)
7905 x 2536 x 1120
Tyre size in inches
10
Internal dimensions in mm (LxWxH)
6220 x 2470 x 350
Load capacity in kg
2020
Permissible gross weight in kg
3500
braked
Body dimensions in mm (LxWxH)
7870 x 2536 x 1120
Tyre size in inches
13
Internal dimensions in mm (LxWxH)
6220 x 2470 x 350
Load capacity in kg
2430