Trailer /
HS Tandem-axle with ramps
Construction machinery transporter HS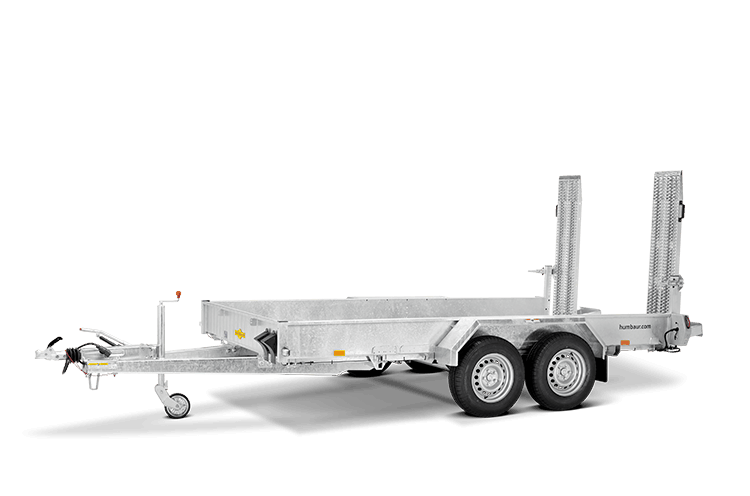 Humbaur HS
Always an advantage for construction machines
i
Screwed V drawbar, hot-dip galvanised by immersion bath
i
13-pin plug and reversing light
i
Welded drop side/frame construction of steel plate, hot-dip galvanised by immersion bath.
i
Upright steel drive-on ramps (1530 x 360 mm) hot-dip galvanised by immersion bath, load capacity for each ramp 1500 kg, with anti-slip surface and integrated support legs.
i
12 tie-down rings (6 pairs) mounted in the outer frame with a box trailer length of 3000 mm or 14 rings (7 pairs) with 3750 mm, pull force of 1000 kg per tie-down ring.
i
Walk-on-able steel mudguards which terminate with the drop sides.
i
Humbaur multifunctional lighting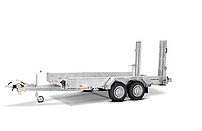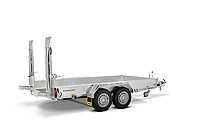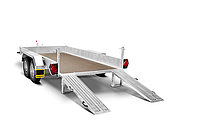 Do you regularly have to transport lightweight or medium weight construction machinery or diggers? The sturdy and solid construction of the HS is designed for daily transport tasks. The low loading height facilitates loading. The mudguards with aluminium chequerplate that can be stood on, and the protected lighting units make it particularly durable in day-to-day operations.
Screwed V drawbar, hot-dip galvanised by immersion bath
13-pin plug and reversing light
Welded drop side/frame construction of steel plate, hot-dip galvanised by immersion bath
Upright steel drive-on ramps hot-dip galvanised by immersion bath
12 tie-down rings (6 pairs) mounted in the outer frame
Jockey wheel
Walk-on-able steel mudguards which terminate with the drop sides
Humbaur multifunctional lighting
360° view
Technical data
Tandem axle with steel ramps
Inner height

270 mm
Total height

2.015 mm
Inner length

3.000 mm
Total length

4.960 mm
Inner width

1.600 mm
Total width

2.200 mm
Tandem axle with steel ramps Standard equipment
Welded drop-side-/frame construction made by steel plate, hot-dipgalvanized
Welded V-drawbar, hot-dip galvanized
13 pole plug and reversing light
Hot-dip galvanized steel ramps (1530 x 360 mm loading capacty perramp 1500 kg), standing upright with anti slip grid covering as well asintegrated folding legs
Lashing rings mounted in external frame (6 pairs at 3000 mm / 7 pairs at3750 mm internal length.), traction force 1000 kg per lashing ring
Jockey wheel
Passable steel mudguards, flush with the drop-side
Tandem axle with steel ramps

Models

Permissible gross weight in kg

2500

3000

3500

2500

3000

3500

Load capacity in kg

1850

2340

2770

1760

2250

2680

Body dimensions in mm (LxWxH)

4960 x 2200 x 2015

4960 x 2200 x 2015

4960 x 2200 x 2020

5710 x 2453 x 2015

5710 x 2453 x 2015

5730 x 2453 x 2020

Internal dimensions in mm (LxWxH)

3000 x 1600 x 270

3000 x 1600 x 270

3000 x 1600 x 270

3750 x 1850 x 270

3750 x 1850 x 270

3750 x 1850 x 270

Load height in mm

485

485

485

485

485

485

Tyre size in inches

14

14

14

14

14

14
Permissible gross weight in kg
2500
braked
Body dimensions in mm (LxWxH)
4960 x 2200 x 2015
Tyre size in inches
14
Internal dimensions in mm (LxWxH)
3000 x 1600 x 270
Load capacity in kg
1850
Permissible gross weight in kg
3000
braked
Body dimensions in mm (LxWxH)
4960 x 2200 x 2015
Tyre size in inches
14
Internal dimensions in mm (LxWxH)
3000 x 1600 x 270
Load capacity in kg
2340
Permissible gross weight in kg
3500
braked
Body dimensions in mm (LxWxH)
4960 x 2200 x 2020
Tyre size in inches
14
Internal dimensions in mm (LxWxH)
3000 x 1600 x 270
Load capacity in kg
2770
Permissible gross weight in kg
2500
braked
Body dimensions in mm (LxWxH)
5710 x 2453 x 2015
Tyre size in inches
14
Internal dimensions in mm (LxWxH)
3750 x 1850 x 270
Load capacity in kg
1760
Permissible gross weight in kg
3000
braked
Body dimensions in mm (LxWxH)
5710 x 2453 x 2015
Tyre size in inches
14
Internal dimensions in mm (LxWxH)
3750 x 1850 x 270
Load capacity in kg
2250
Permissible gross weight in kg
3500
braked
Body dimensions in mm (LxWxH)
5730 x 2453 x 2020
Tyre size in inches
14
Internal dimensions in mm (LxWxH)
3750 x 1850 x 270
Load capacity in kg
2680