Trailer /
Box trailer HKN tandem axle sandwich PurFerro, wheels in
Sandwich tandem HKN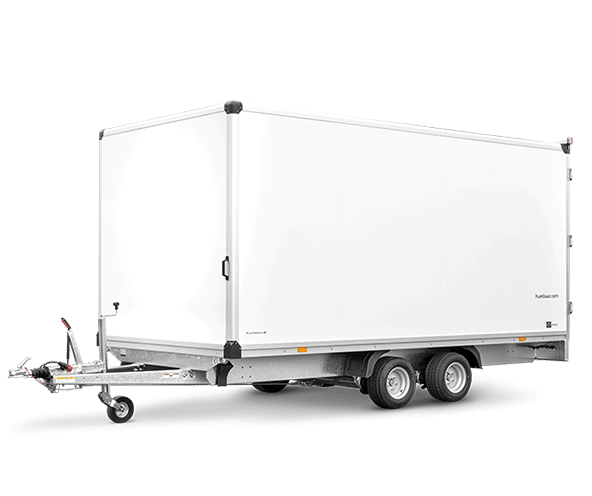 HKN Tandem Sandwich
Protected goods transport due to plastic seals on the doors
i
13-pin plug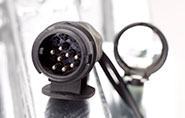 i
V drawbar, hot-dip galvanised
i
Body made from 45 mm sandwich panels
i
Espagnolette lock and hinges made from stainless steel.
i
We also offer this trailer with large tyres:
tandem box Sandwich HK
i
Humbaur multifunctional lighting with reversing light.
i
Tie down rails with sliding lashing points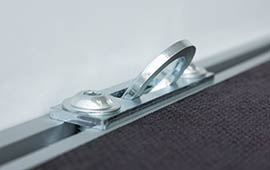 i
LED interiour light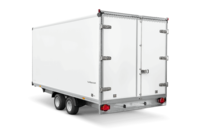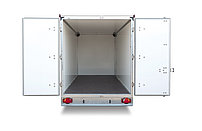 This is how you easily load even heavy things into your box trailer: with a loading height of only 645 / 785 mm. This low-level tandem- axle trailer is perfectly finished and protected against corrosion. The sturdy body is made using 30 mm thick sandwich panels consisting of a steel covering on both sides with polyester lacquer coating as well as with a polyurethane-foam core. The edging and rear door are made of aluminium. Parts subject to more wear and tear such as the hinges or the door locks are made of stainless steel. The trailer is waterproof to ensure that your goods are dry when they arrive.
13-pin plug
Floor plate 18 mm thick
V drawbar, hot-dip galvanised
Body made from 45 mm sandwich panels
Espagnolette lock and hinges made from stainless steel
Double-hinged doors
Box trailer also available with large tyres
Humbaur multifunctional lighting with reversing light
Jockey wheel
Handle for manoeuvring
Tie down rails with sliding lashing points
LED interiour light
Technical data
Tandem axle sandwich PurFerro, wheels in, side walls 30 mm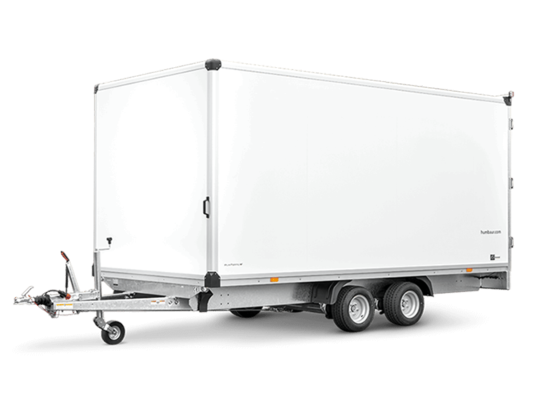 Inner height

1.885 mm
Total height

2.600 mm
Inner length

3.185 mm
Total length

4.625 mm
Inner width

1.730 mm
Total width

1.810 mm
Tandem axle sandwich PurFerro, wheels in, side walls 30 mm Standard equipment
Hot-dip galvanised v-shaped coupling
13-pin plug and reversing light
18 mm plywood floor, resin coated
Side walls 30 mm PurFerro sandwich panels, white coated steel cover layers
Double door rear
Interior lighting
Espagnolette lock and hinges stainless steel
Automatic jockey wheel
Tandem axle sandwich PurFerro, wheels in, side walls 30 mm

Models

Permissible gross weight in kg

2000

2500

3000

3500

2000

2500

3000

3500

2500

3000

3500

2500

3000

3500

2500

3000

3500

2500

3000

3500

2500

3000

3500

2500

3000

3500

Load capacity in kg

1167

1667

2167

2615

1130

1630

2113

2560

1595

2095

2510

1499

1975

2390

1306

1875

2190

1135

1635

2010

1110

1610

2020

955

1455

1875

Body dimensions in mm (LxWxH)

4625 x 1810 x 2600

4625 x 1810 x 2600

4625 x 1810 x 2600

4675 x 1810 x 2635

4625 x 2110 x 2600

4625 x 2110 x 2600

4625 x 2110 x 2600

4675 x 2110 x 2600

5635 x 1810 x 2600

5635 x 1810 x 2600

5675 x 1810 x 2600

5635 x 2110 x 2600

5635 x 2110 x 2600

5675 x 2110 x 2600

6635 x 2110 x 2600

6635 x 2110 x 2600

6675 x 2110 x 2600

6915 x 2510 x 2600

6915 x 2510 x 2600

6885 x 2510 x 2600

7635 x 2110 x 2600

7635 x 2110 x 2600

7675 x 2110 x 2600

7915 x 2510 x 2600

7915 x 2510 x 2600

7885 x 2510 x 2600

Internal dimensions in mm (LxWxH)

3185 x 1730 x 1885

3185 x 1730 x 1885

3185 x 1730 x 1885

3185 x 1730 x 1885

3185 x 2030 x 1885

3185 x 2030 x 1885

3185 x 2030 x 1885

3185 x 2030 x 1885

4185 x 1730 x 1885

4185 x 1730 x 1885

4185 x 1730 x 1885

4185 x 2030 x 1885

4185 x 2030 x 1885

4185 x 2030 x 1885

5185 x 2030 x 1885

5185 x 2030 x 1885

5185 x 2030 x 1885

5185 x 2430 x 1885

5185 x 2430 x 1885

5185 x 2430 x 1885

6185 x 2030 x 1885

6185 x 2030 x 1885

6185 x 2030 x 1885

6185 x 2430 x 1885

6185 x 2430 x 1885

6185 x 2430 x 1885

braked

✓

✓

✓

✓

✓

✓

✓

✓

✓

✓

✓

✓

✓

✓

✓

✓

✓

✓

✓

✓

✓

✓

✓

✓

✓

✓

Load height in mm

620

620

620

650

620

620

620

650

620

620

650

620

620

650

620

620

650

620

620

650

620

620

650

620

620

650

Tyre size in inches

10

10

10

13

10

10

10

13

10

10

13

10

10

13

10

10

13

10

10

13

10

10

13

10

10

13
Permissible gross weight in kg
2000
braked
Body dimensions in mm (LxWxH)
4625 x 1810 x 2600
Tyre size in inches
10
Internal dimensions in mm (LxWxH)
3185 x 1730 x 1885
Load capacity in kg
1167
Permissible gross weight in kg
2500
braked
Body dimensions in mm (LxWxH)
4625 x 1810 x 2600
Tyre size in inches
10
Internal dimensions in mm (LxWxH)
3185 x 1730 x 1885
Load capacity in kg
1667
Permissible gross weight in kg
3000
braked
Body dimensions in mm (LxWxH)
4625 x 1810 x 2600
Tyre size in inches
10
Internal dimensions in mm (LxWxH)
3185 x 1730 x 1885
Load capacity in kg
2167
Permissible gross weight in kg
3500
braked
Body dimensions in mm (LxWxH)
4675 x 1810 x 2635
Tyre size in inches
13
Internal dimensions in mm (LxWxH)
3185 x 1730 x 1885
Load capacity in kg
2615
Permissible gross weight in kg
2000
braked
Body dimensions in mm (LxWxH)
4625 x 2110 x 2600
Tyre size in inches
10
Internal dimensions in mm (LxWxH)
3185 x 2030 x 1885
Load capacity in kg
1130
Permissible gross weight in kg
2500
braked
Body dimensions in mm (LxWxH)
4625 x 2110 x 2600
Tyre size in inches
10
Internal dimensions in mm (LxWxH)
3185 x 2030 x 1885
Load capacity in kg
1630
Permissible gross weight in kg
3000
braked
Body dimensions in mm (LxWxH)
4625 x 2110 x 2600
Tyre size in inches
10
Internal dimensions in mm (LxWxH)
3185 x 2030 x 1885
Load capacity in kg
2113
Permissible gross weight in kg
3500
braked
Body dimensions in mm (LxWxH)
4675 x 2110 x 2600
Tyre size in inches
13
Internal dimensions in mm (LxWxH)
3185 x 2030 x 1885
Load capacity in kg
2560
Permissible gross weight in kg
2500
braked
Body dimensions in mm (LxWxH)
5635 x 1810 x 2600
Tyre size in inches
10
Internal dimensions in mm (LxWxH)
4185 x 1730 x 1885
Load capacity in kg
1595
Permissible gross weight in kg
3000
braked
Body dimensions in mm (LxWxH)
5635 x 1810 x 2600
Tyre size in inches
10
Internal dimensions in mm (LxWxH)
4185 x 1730 x 1885
Load capacity in kg
2095
Permissible gross weight in kg
3500
braked
Body dimensions in mm (LxWxH)
5675 x 1810 x 2600
Tyre size in inches
13
Internal dimensions in mm (LxWxH)
4185 x 1730 x 1885
Load capacity in kg
2510
Permissible gross weight in kg
2500
braked
Body dimensions in mm (LxWxH)
5635 x 2110 x 2600
Tyre size in inches
10
Internal dimensions in mm (LxWxH)
4185 x 2030 x 1885
Load capacity in kg
1499
Permissible gross weight in kg
3000
braked
Body dimensions in mm (LxWxH)
5635 x 2110 x 2600
Tyre size in inches
10
Internal dimensions in mm (LxWxH)
4185 x 2030 x 1885
Load capacity in kg
1975
Permissible gross weight in kg
3500
braked
Body dimensions in mm (LxWxH)
5675 x 2110 x 2600
Tyre size in inches
13
Internal dimensions in mm (LxWxH)
4185 x 2030 x 1885
Load capacity in kg
2390
Permissible gross weight in kg
2500
braked
Body dimensions in mm (LxWxH)
6635 x 2110 x 2600
Tyre size in inches
10
Internal dimensions in mm (LxWxH)
5185 x 2030 x 1885
Load capacity in kg
1306
Permissible gross weight in kg
3000
braked
Body dimensions in mm (LxWxH)
6635 x 2110 x 2600
Tyre size in inches
10
Internal dimensions in mm (LxWxH)
5185 x 2030 x 1885
Load capacity in kg
1875
Permissible gross weight in kg
3500
braked
Body dimensions in mm (LxWxH)
6675 x 2110 x 2600
Tyre size in inches
13
Internal dimensions in mm (LxWxH)
5185 x 2030 x 1885
Load capacity in kg
2190
Permissible gross weight in kg
2500
braked
Body dimensions in mm (LxWxH)
6915 x 2510 x 2600
Tyre size in inches
10
Internal dimensions in mm (LxWxH)
5185 x 2430 x 1885
Load capacity in kg
1135
Permissible gross weight in kg
3000
braked
Body dimensions in mm (LxWxH)
6915 x 2510 x 2600
Tyre size in inches
10
Internal dimensions in mm (LxWxH)
5185 x 2430 x 1885
Load capacity in kg
1635
Permissible gross weight in kg
3500
braked
Body dimensions in mm (LxWxH)
6885 x 2510 x 2600
Tyre size in inches
13
Internal dimensions in mm (LxWxH)
5185 x 2430 x 1885
Load capacity in kg
2010
Permissible gross weight in kg
2500
braked
Body dimensions in mm (LxWxH)
7635 x 2110 x 2600
Tyre size in inches
10
Internal dimensions in mm (LxWxH)
6185 x 2030 x 1885
Load capacity in kg
1110
Permissible gross weight in kg
3000
braked
Body dimensions in mm (LxWxH)
7635 x 2110 x 2600
Tyre size in inches
10
Internal dimensions in mm (LxWxH)
6185 x 2030 x 1885
Load capacity in kg
1610
Permissible gross weight in kg
3500
braked
Body dimensions in mm (LxWxH)
7675 x 2110 x 2600
Tyre size in inches
13
Internal dimensions in mm (LxWxH)
6185 x 2030 x 1885
Load capacity in kg
2020
Permissible gross weight in kg
2500
braked
Body dimensions in mm (LxWxH)
7915 x 2510 x 2600
Tyre size in inches
10
Internal dimensions in mm (LxWxH)
6185 x 2430 x 1885
Load capacity in kg
955
Permissible gross weight in kg
3000
braked
Body dimensions in mm (LxWxH)
7915 x 2510 x 2600
Tyre size in inches
10
Internal dimensions in mm (LxWxH)
6185 x 2430 x 1885
Load capacity in kg
1455
Permissible gross weight in kg
3500
braked
Body dimensions in mm (LxWxH)
7885 x 2510 x 2600
Tyre size in inches
13
Internal dimensions in mm (LxWxH)
6185 x 2430 x 1885
Load capacity in kg
1875