Trailer /
Single-axle plywood box trailer HK
Plywood single-axle HK
HK Plywood
Small but powerful! Suitable for every transport task.
i
V drawbar, hot-dip galvanised
i
13-pin plug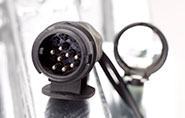 i
Side walls and roof made of plywood with high quality smooth fiber-reinforced plastic coating, ideal for labelling
i
Single-hinge door with espagnolette lock, hingers and espagnolette lock galvanised.
i
Espagnolette lock, galvanised
i
Optional sliding supports for safe parking
Our single-axle trailer offers maximum stability: hot-dip galvanised steel chassis, plastic door seals, robust reinforcements in the roof area and at the front wall - this trailer has a long service life. The integrated lashing system secures the load inside the trailer. A light ensures adequate illumination.So your goods reach their destination reliably and undamaged. A perfect advertising medium: At a surcharge, we will display your individual advertising message on the side walls of the single-axle trailer. This allows you to benefit in the long term.
V drawbar, hot-dip galvanised
13-pin plug
Jockey wheel
Side walls and roof made of plywood
Single-hinge door with espagnolette lock
Espagnolette lock, galvanised
Interiour light mounted
Floor plate 15 mm thick
Optional sliding supports
Technical data
Single axle Plywood, wheels out, Plywood roof
Inner height

1.520 mm
Total height

2.080 mm
Inner length

2.510 mm
Total length

3.750 mm
Inner width

1.320 mm
Total width

1.760 mm
Single axle Plywood, wheels out, Plywood roof Standard equipment
Hot-dip galvanised v-shaped coupling
13-pin plug
15 mm plywood floor, resin coated
Side walls and roof 15 mm plywood with UV-resistant plastic coating
Interior lighting
Single rear door for HKxx2513, double rear doors for HK xx3015
Galvanised espagnolette lock and hinges
Lashing rings in framework profile, traction force 400 kg per ring, DEKRA approved
Jockey wheel
Single axle Plywood, wheels out, Plywood roof

Models

Permissible gross weight in kg

1300

750

1300

1500

1500

Load capacity in kg

890

365

800

1085

993

Body dimensions in mm (LxWxH)

3775 x 1810 x 2105

3750 x 1760 x 2080

4380 x 2010 x 2445

3775 x 1810 x 2135

4380 x 2010 x 2455

Internal dimensions in mm (LxWxH)

2510 x 1320 x 1520

2510 x 1320 x 1520

3040 x 1510 x 1800

2510 x 1320 x 1520

3040 x 1510 x 1800

Load height in mm

535

500

585

565

595

Tyre size in inches

14

13

15

14

14
Permissible gross weight in kg
1300
braked
Body dimensions in mm (LxWxH)
3775 x 1810 x 2105
Tyre size in inches
14
Internal dimensions in mm (LxWxH)
2510 x 1320 x 1520
Load capacity in kg
890
Permissible gross weight in kg
750
braked
Body dimensions in mm (LxWxH)
3750 x 1760 x 2080
Tyre size in inches
13
Internal dimensions in mm (LxWxH)
2510 x 1320 x 1520
Load capacity in kg
365
Permissible gross weight in kg
1300
braked
Body dimensions in mm (LxWxH)
4380 x 2010 x 2445
Tyre size in inches
15
Internal dimensions in mm (LxWxH)
3040 x 1510 x 1800
Load capacity in kg
800
Permissible gross weight in kg
1500
braked
Body dimensions in mm (LxWxH)
3775 x 1810 x 2135
Tyre size in inches
14
Internal dimensions in mm (LxWxH)
2510 x 1320 x 1520
Load capacity in kg
1085
Permissible gross weight in kg
1500
braked
Body dimensions in mm (LxWxH)
4380 x 2010 x 2455
Tyre size in inches
14
Internal dimensions in mm (LxWxH)
3040 x 1510 x 1800
Load capacity in kg
993