Flatbed HA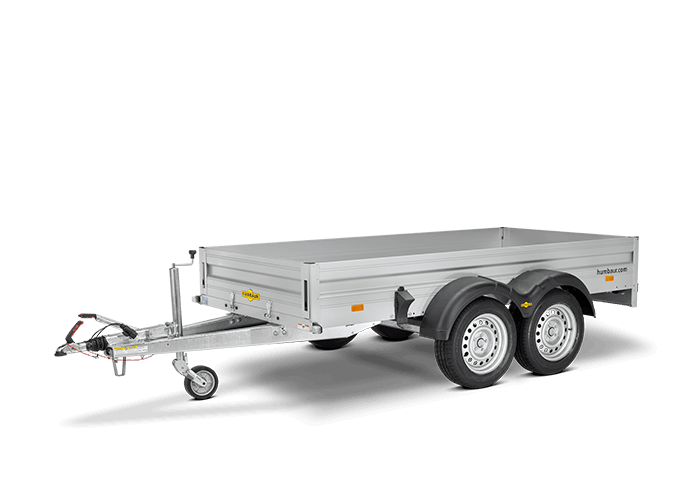 The multifunctional
transport aid for many tasks
i
V drawbar, hot-dip galvanised
i
13-pin plug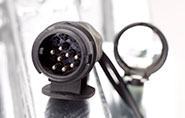 i
Flaps with recessed locks
i
3 x lashing rings integrated into the drop sides, tensile force 400 kg per lashing ring (tested by Dekra).
i
Drop-sides made by anodised aluminium
i
Humbaur multifunctional lighting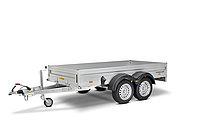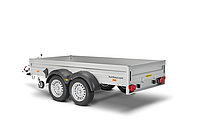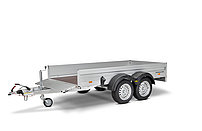 It can be used to transport building materials, construction tools and machines, even gardening equipment - anything you want. Our HA flatbed trailers can be equipped with a wide variety of accessories, for every application. Its design promises stability and a long service life: The side wall frame design uses sturdy aluminium profile. The 15 mm thick flooring made from waterproof multi-layer glued material is coated to produce a non-slip surface. Optimum load securing is ensured by six recessed lashing brackets in the drop sides: Each one withstands 400 kg., tested by DEKRA.
V drawbar, hot-dip galvanised
13-pin plug
Floor plate 15 mm thick
Flaps with recessed locks
3 x lashing rings integrated into the drop sides
Jockey wheel
Drop-sides made by anodised aluminium
Plastic fenders
Humbaur multifunctional lighting
Technical data
Tandem axle Aluminium HA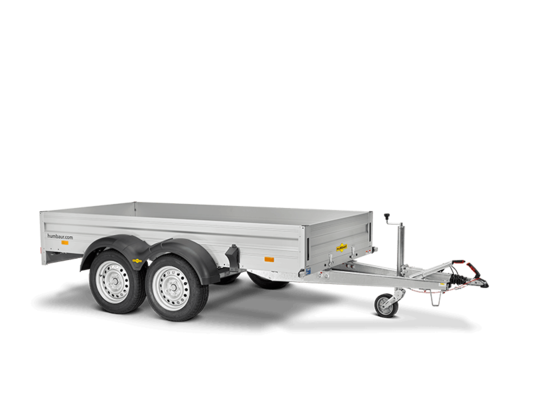 Inner height

350 mm
Total height

900 mm
Inner length

2.510 mm
Total length

3.940 mm
Inner width

1.310 mm
Total width

1.810 mm
Tandem axle Aluminium HA Standard equipment
Hot-dip galvanised v-shaped coupling
13-pin plug and reversing light
15 mm plywood base plate
Boards made of anodised aluminium
Flaps with sunk-in closings
Lashing rings (3 per side) integrated in sideboard profiles, traction force 400 kg per ring, DEKRA approved
Jockey wheel
Tandem axle Aluminium HA

Models

Permissible gross weight in kg

2000

2500

2000

Load capacity in kg

1633

2113

1670

Body dimensions in mm (LxWxH)

4460 x 2004 x 900

4460 x 2004 x 930

3940 x 1810 x 900

Internal dimensions in mm (LxWxH)

3030 x 1500 x 350

3030 x 1500 x 350

2510 x 1310 x 350

Load height in mm

525

550

525

Tyre size in inches

13

15

13
Permissible gross weight in kg
2000
braked
Body dimensions in mm (LxWxH)
4460 x 2004 x 900
Tyre size in inches
13
Internal dimensions in mm (LxWxH)
3030 x 1500 x 350
Load capacity in kg
1633
Permissible gross weight in kg
2500
braked
Body dimensions in mm (LxWxH)
4460 x 2004 x 930
Tyre size in inches
15
Internal dimensions in mm (LxWxH)
3030 x 1500 x 350
Load capacity in kg
2113
Permissible gross weight in kg
2000
braked
Body dimensions in mm (LxWxH)
3940 x 1810 x 900
Tyre size in inches
13
Internal dimensions in mm (LxWxH)
2510 x 1310 x 350
Load capacity in kg
1670